<< Previous Chapter
>> Next Chapter
^^ Index
#48. A Towering Victory

Yeah, sure. Ok. Not like I have anything better to do.



Music:
United Nations
Choro Notes: Unity Tower is only accessible after you register your location on the Geonet in a Pokémon Center and after you make some international trades. Most people don't know it exists!

Dangit.



Good? Good.


young trainers."



Yes siiiir.



Ah, that's . . . it?



Alright! Unity!


Choro Notes: Welcome to the tower of unity! Where people of all nations can gather! PLEASE GO TO YOUR HOME NATION'S DESIGNATED FLOOR.

. . . who wants to know?


Oh! You wrote me that . . . letter.

. . . you're a scientist? Say something smart.

"Moleculars >=3"

. . . ok you know your teeth, alright.



. . . WHY IS CANADA'S FLOOR 100 STORIES ABOVE THE THE US FLOOR?!



Heeeeey, Woody.



I'm sorry I just can't understand your accent.



Well this just seems really rude! Here, get in your nationally segrated floor. To get there, ride in this elevator for 30 minutes!



Really I thought it was weird that an Australian wanted a crocodile.

. . . I'm going back to town.

- - -



"I mean, I've asked every person who's come in the door and they all said no so you HAVE to be that one, yeah?"



Choro Notes: The Liberty Pass was given out over Nintendo WFC for a limited time during the launch of Black & White.

- - -



I didn't order this. I guess it was something I entered years ago?



Eh.



It's just a boat-filled couple of days, huh?



Nice, nice.


live free.



Yeah, sure.



. . . wait. Oh dammit, REALLY?!



Y'all know I kinda stomped your bosses, right?



. . . Y'all ain't from around here are ya?



Y'all are so far behind!



Music:
Battle! Team Plasma

R-really?



IT'S ME. I'M THE MORIMOTO.



I'm mildly peeved.



Man! Get on your boat and go away!



No.



You'll lose some teeth, too. GET ON THE BOAT.



I've thought about writin' a book. Close enough.


in a small basement on the island!"
WHAT TYPE OF LEGENDARY LIVES IN A BASEMENT?



NO, I DID THAT THREE MONTHS AGO!



Wasn't this thing built 200 years ago? I'm sure those guys are dead now. Really I think Victini is probably gone by this point, too.



No, I'm-I'm good.



Can't believe I still gotta deal with this.



Are you sure you're thinking of Victini? Are you sure you aren't just thinking of a lighthouse?



Compared to you I can already win any battle!


of contest!"

Victini here."

NO.

]:I



I'll suplex the Pokémon!



Music:
Pokémon Diamond & Pearl - Legendary Pokémon! Heatran - Giratina - Regigigas

. . . This?



Scooter just . . . don't break it's neck.


Choro Notes: False Swipe can't KO the target! It reduces the target to 1 HP but no further!
Balls Used:
Ultra Ball x 26
Victini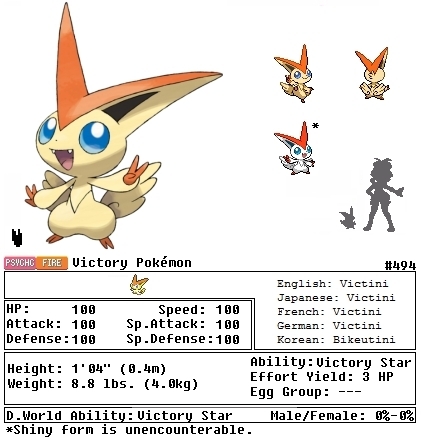 This Pokémon brings victory. It creates an unlimited supply of energy inside its body, which it shares with those who touch it. When it shares this energy, that being's entire body will be overflowing with power. It is said that Trainers with Victini always win, regardless of the type of encounter.
Choro Notes: I don't like Victini. I think his gimmick is dumb. He has two signature moves: Searing Shot which is a powerful special Fire-type move that has a 30% chance of burning and V-Create which is a special event-only move that basically like . . . it is a 180 power physical Fire-type move. that lowers the defense and speed stats a level. That is its draw back. Oh noooooo. You could also get a Rayquaza with it in Japan. Go figure.
Zorak Notes: V V V, VICTORY
HulkaMatt Notes: !!!!!!! ASS WINGS AWAAAAAAAAAAAAAAAAAAAAAAAAAAAAAAAAAAAAAAAAAAAAAAY! Right out of Majora's Mask. Holy fuck


What the hell does that mean?



What do I care? I can't lose.



S'up Professor?


up to no good has been captured!"
Yeah I got them three months ago. Remember?


and they exhibit more power than usual."
So like me when I hear a banjo.


their own evil ends . . . "

sincerely trying to help it."
By locking it in a basement for 200 years? Really how is this thing still alive?



Can . . . can this thing win over death? Is this thing deathless? Can it just challenge death to a contest for its soul and win?


Team Plasma's schemes."



Go on.



What does THAT even mean?!


brighter future!"



Well . . . I can't lose now. Now what?


<< Previous Chapter
>> Next Chapter
^^ Index