<< Previous Chapter
>> Next Chapter
^^ Index
Chapter 52: If You're Reading This and He's Not in SSBB. Be Assured I am Disappointed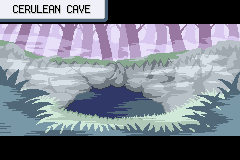 Welp, time to kill = exploring caves for crap to sell to fuel my addiction.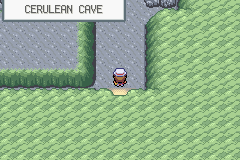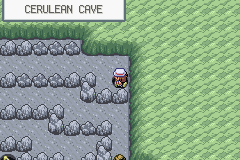 I'm not sure why I can see in this cave that's been sealed off for years, but that tunnel from Cerulean to Lavender is pitch black.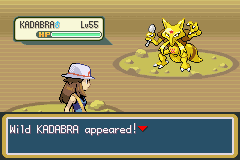 Spoonman. Definitely a Spoonman.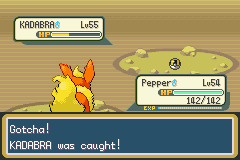 #064. Kadabra
J:Yungerer G:Kadabra F:Kadabra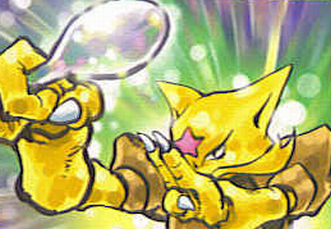 Psi Pokémon
Height: 4'03" Weight: 124.6 lbs
Habitat: Urban Types:

Stage1: Evolves from Abra
Kadabra holds a silver spoon in its hand. Without the spoon, the Pokémon is said to be limited to half the usual amount of its telekinetic powers. Kadabra emits a peculiar alpha wave if it develops a headache. Only those people with a particularly strong psyche can hope to become a trainer of this Pokémon. If it uses its abilities, it emits special alpha waves that cause machines to malfunction. For example, it makes clocks run backwards. An old rumor says that a boy with psychic abilities suddenly transformed into Kadabra while he was assisting research into extrasensory powers.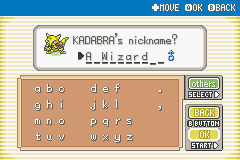 Admiral Lasers named this.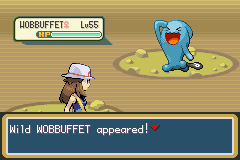 . . . I . . . what?
#202. Wobbuffet J:Sonansu G:Woingenau F:Qulbutoke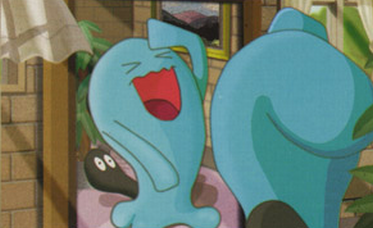 Patient Pokémon
Height: 4'03" Weight: 62.8 lbs
Habitat: Caverns Types:

Wobbuffet does nothing but endure attacks—it won't attack on its own. It hates light and shock. If attacked, it inflates its body to pump up its counterstrike. However, it won't endure an attack on its tail. When that happens, the Pokémon will try to take the foe with it using Destiny Bond. If two or more Wobbuffet meet, they will turn competitive and try to outdo each other's endurance. However, they may try to see which one can endure the longest without food. Trainers need to beware
of this habit.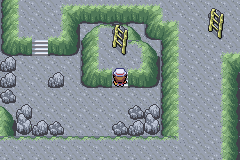 Choro Notes: It's kinda funny. 90% of this thread is Sammy wandering through various environs alone without being acknowledged.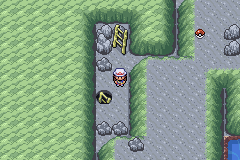 It's kind of telling how gen1 was different from recent Gens. There is almost no interaction with the player character at all.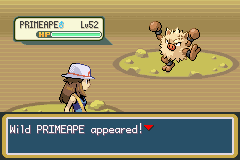 Really when you look at Kanto compared to Sevii, it's a huge split in how NPCs are handled.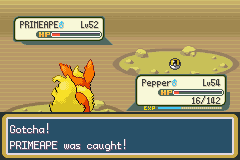 #057. Primeape
J:Okorizaru G:Rasaff F:Colossinge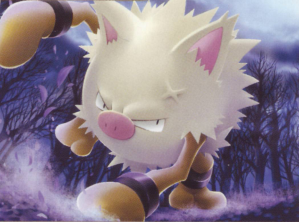 Pig Monkey Pokémon
Height: 3'03" Weight: 70.5 lbs
Habitat: Mountains Types:


Stage1: Evolves from Mankey
Primeape becomes wildly furious if it even senses someone looking at it. It chases anyone that meets its glare. When Primeape becomes furious, its blood circulation is boosted. In turn, its muscles are made even stronger. However, it also becomes much less intelligent at the same time. If approached while asleep, it may awaken and angrily give chase in a groggy state of semi-sleep. It stops being angry only when nobody else is around.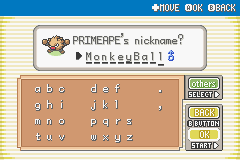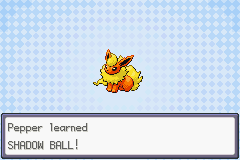 Choro Notes: Kinda hard to write commentary when I kind of rely on responding to people!!!!!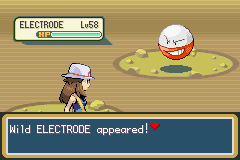 #101. Electrode
J:Marumine G:Lektrobal F:Electrode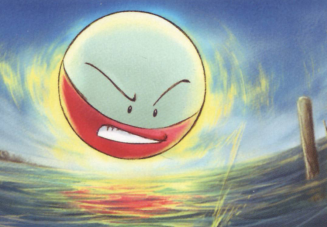 Ball Pokémon
Height: 3'11" Weight: 146.8 lbs
Habitat: Urban Types:


Stage1: Evolves from Voltorb
Electrode eats electricity in the atmosphere. One of Electrode's characteristics is its attraction to electricity. It is a problematical Pokémon that congregates mostly at electrical power plants to feed on electricity that has just been generated. They cause massive and chaotic blackouts in nearby cities. The more energy it charges up, the faster it gets. But this also makes it more likely to explode—on days when lightning strikes, you can see this Pokémon exploding all over the place from eating too much electricity. Electrode is dangerous due to the fact that if it has enough electricity and has nothing to do, it amuses itself by exploding. It is feared, with the nickname of "Bomb Ball."
Electrodes fucking terrify me at this point.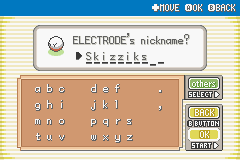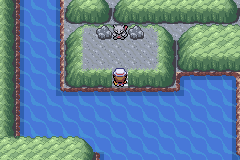 Th-That can't be...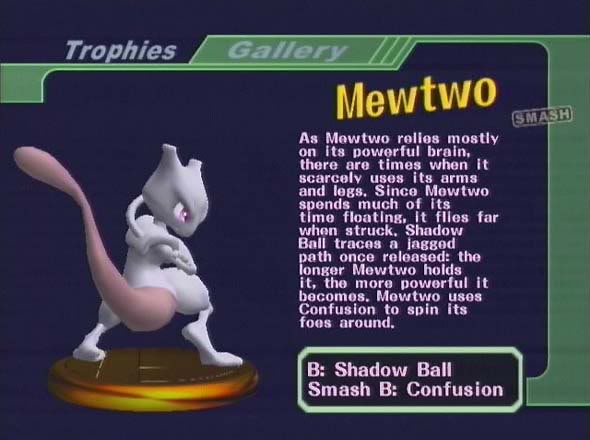 I can't believe it! There were rumors that Nintendo had tried to actually make a Mewtwo after the success of that game he was in, but the one they got to work escaped and destroyed a lab and the island it was on and simultaneously causing the demise of both the Atari Jaguar and the Sega Saturn!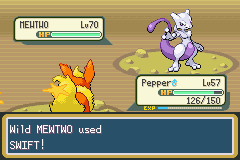 I must own you.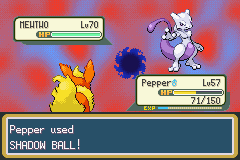 EAT SHADOW BALL, FREAK.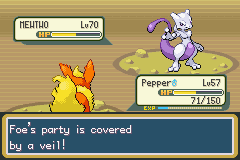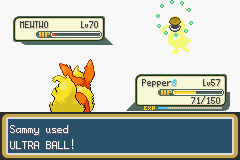 MEWTWO, YOU-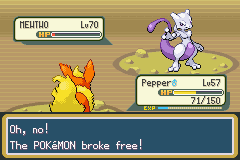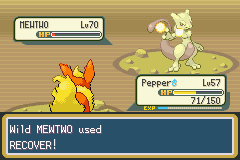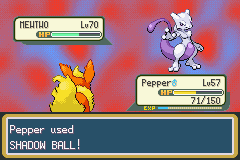 PEPPER CAN KEEP THIS UP ALL DAY.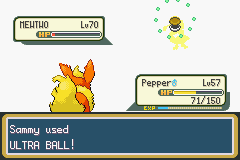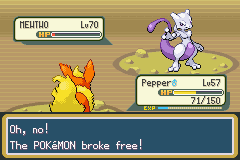 BAH.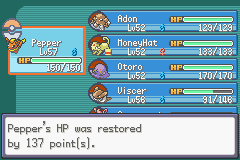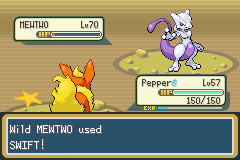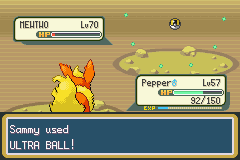 C'MON.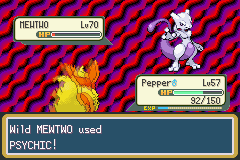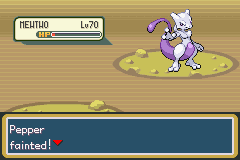 holy CRAP.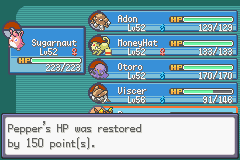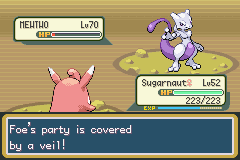 Ok, Safeguard is getting more annoying than I thought it would.

-15 minute mark-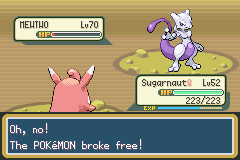 STOP BEING AN ASS YOU GENDERLESS FUCK.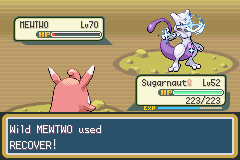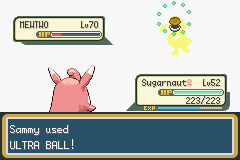 FUCK YOOOOOOOOOOOOOOU.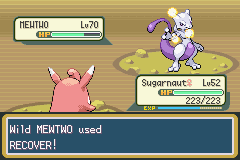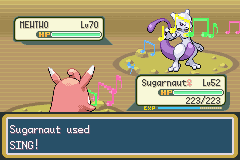 HA. GOTCHA.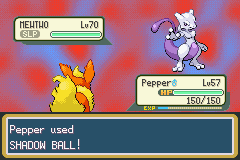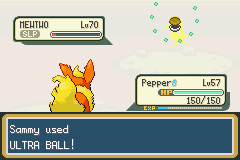 GRAAAAAAGH, PISS NACHOS.
At this point it wakes up.



Alright, so we'll just put it back to-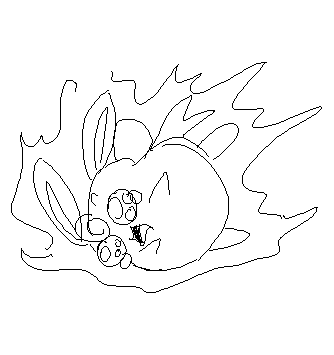 OH HOLY MOTHER OF FUCK WHY?! WHY WOULD YOU DO THAT TO SUGARNAUT?!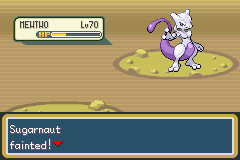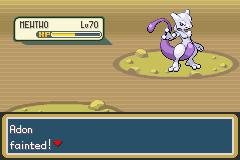 FUCK.


DAHDASHADHDAHDJAJA.
MEWTWO HURTS.

MEWTWO. HURTS.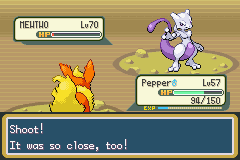 Hey guess who else can't survive being telekinetically slammed into walls!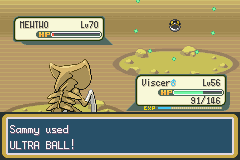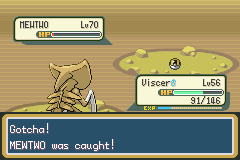 . . . wait.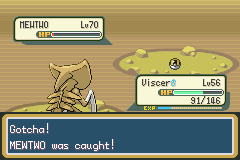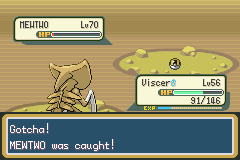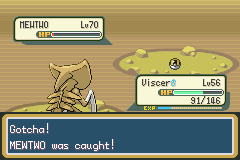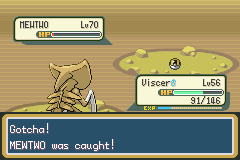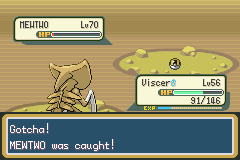 HOLY GOD.
#150. Mewtwo J:Mewtwo G:Mewtu F:Mewtu

Genetic Pokémon
Height: 6'07" Weight: 269 lbs
Habitat: n/a Types:

Mewtwo is a Pokémon that was created by genetic manipulation. However, even though the scientific power of humans created this Pokémon's body, they failed to endow Mewtwo with a compassionate heart. Because its battle abilities were raised to the ultimate level, it thinks only of defeating its foes. Said to rest quietly in an undiscovered cave, Mewtwo usually remains motionless to conserve energy, so that it may unleash its full power in battle. Its DNA is almost the same as Mew's. However, its size and disposition are vastly different.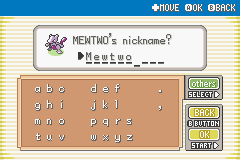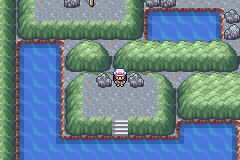 Now, if I can just hunt down Samus, I'll have all the characters I'm good with.
<< Previous Chapter
>> Next Chapter
^^ Index