<< Previous Chapter
>> Next Chapter
^^ Index
#17. They're Worse Than Sinnoh's Contests Somehow

eh? Bianca?



Bianca we've been in Nimbasa for three days now, have you been at the musicals this whole time?



Okay, but you gotta promise me you'll take an actual nap afterwards.



Oh dear . . .



Bianca I can't lie to you. I am doing this mostly to repay you for taking you to a lot of the things I have taken you to that you are not suited for at all. The mudding, the rockabilly concerts, all of that.



"Oh, you're that girl who was taking the five minute sleep breaks between shows. We were starting to get worried around the third day."



"You with your insomnia and you with your badges and floating bobblehead."



None of y'all really wanna do this do you?



Bianca. You need to sleep.



No, BIANCA. NO.



Hmph . . . now Shakes is all riled up.



Great.


Choro Notes: Echoed Voice is like a better Fury Cutter. Every turn it's used consecutively its base power boosts by 40 to a max of 200. Kinda neat!

. . . look I don't wanna say anyone's hobby is dumb but . . . holy crap that is really dumb.



Well what do you think of when you look at me?



Uh . . . that one. Musical Nimbasa can't be as exciting as the real thing.



Great.



Sure it is.



I see.





What the hell was that?



People enjoy this regularly? There wasn't even anything exciting like guitars or fireworks.



Well at least the cactus is happy.



. . . great.

I'm going outside.


Music:
Unwavering Emotions

Oh, jeez. Backing up.



This is really awkward. Like, Cheren's-parents-show-off-photo-albums awkward.



Ah!



(Oh right, we were supposed to meet out on that route. . . )



"Oh, a model? Well that makes everything different then!"


Sometimes, this means you may get hurt."


yourself and others . . . "

can depend on them . . . "
Such elegant wisdom . . .


gotten tougher, I can totally tell."


. . .



Tough one always takes care of the cute one and the smart one.

Yeah I'll be out there, yeah.


like her."

"See you later, Haley!"



Route 5! I think!


Choro Notes: The Macho Brace halves the holder's speed but it doubles the effort values gained while battling. Handy!

Weird . . .



Route 5!



Great!



Holy hell . . .



HEY HEY HEY!


Gothita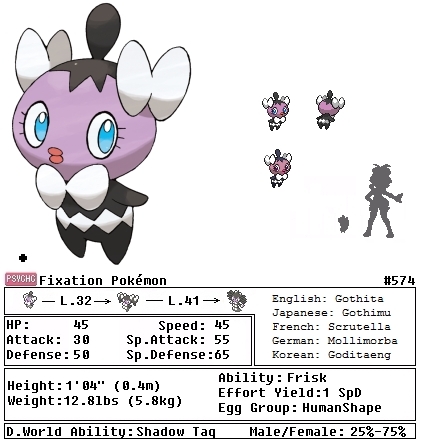 Gothita stare intently at everything. During battle, they intently observe both Trainers and Pokémon. It can become so obsessed with watching that it doesn't notice attacks. Apparently, they are looking at something that only Gothita can see. Their ribbon-like feelers increase their psychic power.
Choro Notes: Gothita are the black version counterpart to Solosis. They're . . . weird.
Zorak Notes:

HulkaMatt Notes: What is this? You don't look depressed at all.

Forest candy!



Oh! A common brushtai—


Minccino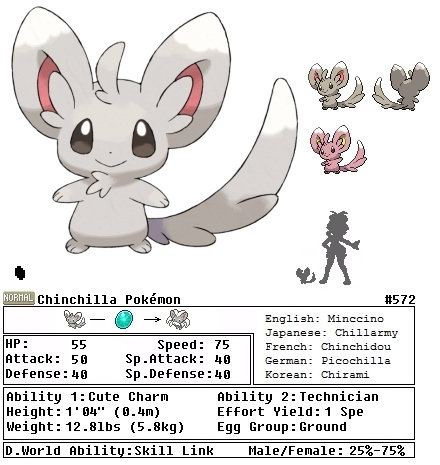 Minccino prefer a tidy habitat. They are always sweeping and dusting, using their tails as brooms. They greet one another by rubbing each other with their tails, which are always kept well groomed and clean.
Choro Notes: Cute chinchillas whose name I like! I don't really have anything else to say about them. Their technician ability is kind of neat I guess!
Zorak Notes: Ironically, chinchillas in real life like to clean themselves in dust. WEIRD.
HulkaMatt Notes: I totally didn't have to look up what the fuck that was. What is that red? Is it supposed to be a squirrel? They look cute and cuddly, I MEAN THEY SEEM NICE. I would probably catch one and...teach it lots of HMs
Choro Notes: It's a chinchilla. Also they don't learn any HMs.
HulkaMatt Notes: WHAT?! Oh, well fuck that shit then. THEY LOOK CUTE. THERE. THERE IS YOUR NOTE. AS THEY ARE NOT AS REDEEMABLE AS I THOUGHT.

Silhouette named this.

Oh! I can use this!


Choro Notes: Great news! Strength is permanent now! I.E.: I never have to push that block again! Not only that, Strength is never required to progress in the game and you don't need a gym badge to be able to use it outside of battle! It's also not a terrible move to have and use! Kind of owns now!

That cat was going to eat that Kewpie doll. I guarantee it.


Liepard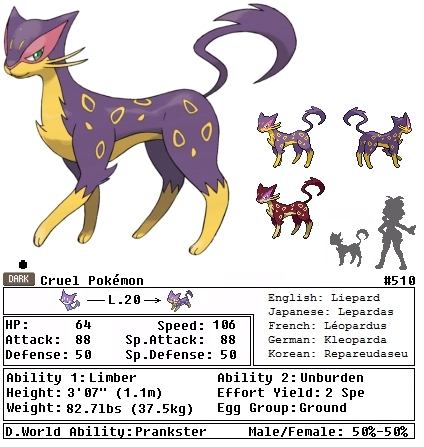 These Pokémon vanish and appear unexpectedly. Stealthily, it sneaks up on its target, striking from behind before its victim has a chance to react. Many Trainers are drawn to their beautiful form and fur. Their beautiful form comes from the muscles they have developed. They run silently in the night
Choro Notes: Liepard are . . . completely underwhelming. I still managed to beat the E4 with one on my first run of Black but eh . . .
Zorak Notes: How can they lie when they can't even fucking talk. GAME FREAK.
HulkaMatt Notes: It's uhhh . . . thinner than that one fat one. Fat cat.

Choro Notes: Payback is nice! It's a 50 power move that doubles in power if the target moves before the user! It's not as good as it was in Gen4 because it no longer triggers if the opponent switches out or uses an item, only if the target itself makes an action.
Choro Notes: And this is the fire-type boosting hold item. We have no fire-type moves soooo.

Who?
". . . they?"



Yes.



Oh! Ah . . . all the litter out here outside of town . . .


Trubbish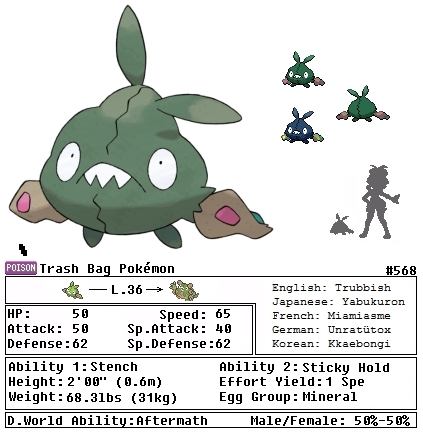 The combination of garbage bags and industrial waste caused the chemical reaction that created this Pokémon. They prefer unsanitary places and, wanting more garbage, they follow people who litter. They always belch poison gas. Inhaling the gas they belch will make you sleep for a week.
Choro Notes: Trubbish are cute and kind of an extension of the whole Grimer thing. Filth will ruin your shit if you keep making it.
Zorak Notes: You're garbage, and I'm going to treat you like garbage. IN THE DISPOSAL.
HulkaMatt Notes: A GARBAGE BAG TURNED POKEMON AND IT IS AWESOME. IT HAS POINTY TEETH AND IS ALL CRUMPLED AND HAS FLOPPY EARS. They're KIND OF the best.

Magikarpal Tunnel and Cheapsteaks sort of came up with this name
Choro Notes: Emolga appear from rustling grass patches. They're not as common as Audino but they start to show up on this route and afterwards.

Volt Switch? I don't think so.

Emolga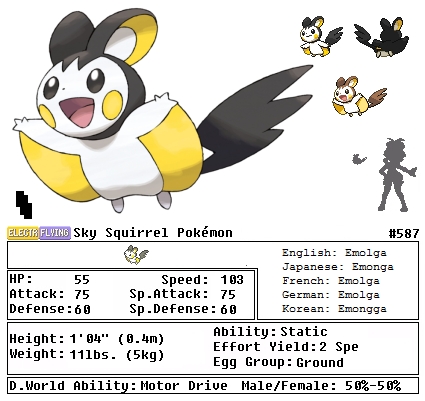 They live on treetops and glide using the inside of a cape-like membrane while discharging electricity. The energy made in Emolga's cheeks' electric pouches is stored inside its membranes and released while it is gliding.
Choro Notes: This gen's Pikachu variant. I personally prefer Pachirisu but this one is pretty neat with some neat typing!
Zorak Notes: I bet you didn't even know flying squirrels were native to North America. WELL THEY ARE.
HulkaMatt Notes: I can't quite put my finger on it but something about this guy reminds me of Pikachu.

A conch named this
Choro Notes: Entrainment passes the user's ability onto the target. In Hansel's case it would pass on Healer. I guess he can make things into nurses?

Spooky scary forest. Elesa?



I may be lost . . .


Tranquill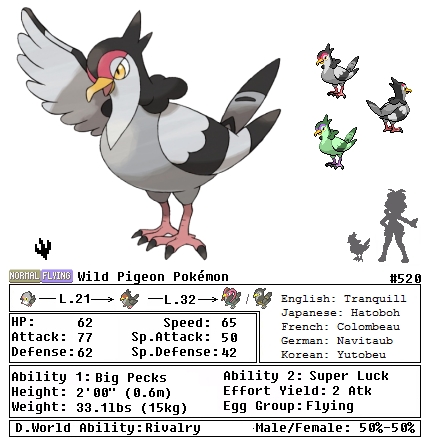 Many people believe that, deep in the forest where Tranquill live, there is a peaceful place where there is no war. No matter where in the world it goes, it knows where its nest is, so it never gets separated from its Trainer. It can return to its Trainer's location regardless of the distance separating them.
Choro Notes: Tranquill are . . . eh. They're a bigger Pidove I guess. Kind of like how Pidgeotto is a bigger Pidgey. Staravia at least gets some nice moves and a cooler ability. Fearow supremacy though.
Zorak Notes: A second stage bird . . . vOv
HulkaMatt Notes: Beep beep.

Choro Notes: A thing you can't see! I critical captured this thing! Critical Capture is new to Gen5. Occasionally when you throw a ball it will make a high-pitched whistling noise, It then only takes one shake of the ball to capture the monster. The more monsters you have in your Pokédex the more likely it is to happen. As you get more the multiplier to catch rate increases. It starts happening at 30 species registered. It's pretty neat!
Choro Notes: Very good wisdom from a wandering backpacker.

Ah.



No way past here. The map says this place is bigger though?



. . .
Huh.



<< Previous Chapter
>> Next Chapter
^^ Index