<< Previous Chapter
^^ Index
Chapter 56: Blue Proves He's A Jackass. Also: THE END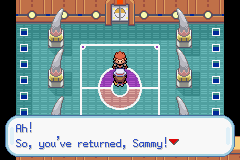 Hey, yea. I'm just passing through. These doors lock behind you.


...Yes. I know.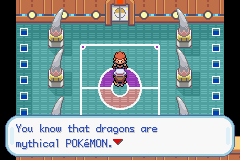 I.. I know.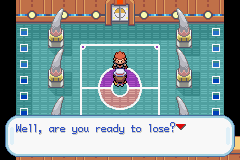 I really don't want to battle, I should really check on my paint crew.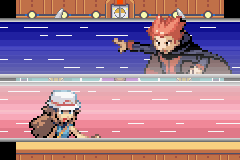 Alright, fine. Ass.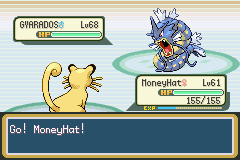 Heh heh...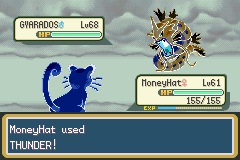 Nope ain't sur-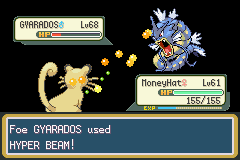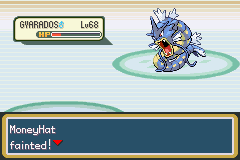 SHIT FUCK SHIT.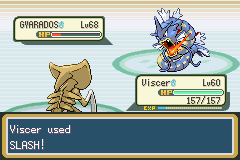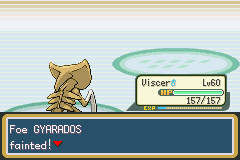 Man why you do that to my cat, man?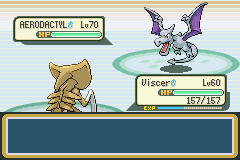 ...fuck.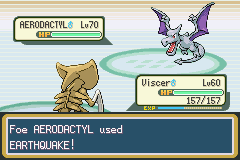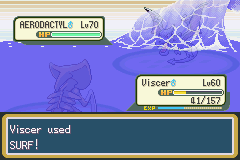 GEE I HOPE IT DOESN'T EARTHQUAKE AGAIN.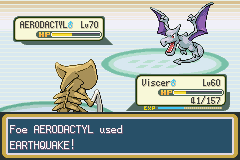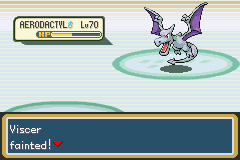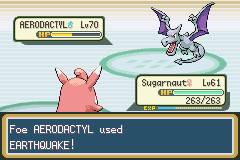 ...ow.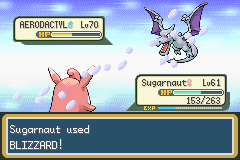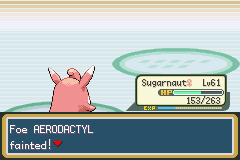 Fucker.



You can't tell from this. But Sugarnaut's holding the Lax Incense. Increases her Evasion a lil'. S'kinda nice. She totally dodged a Hyper Beam there.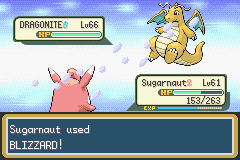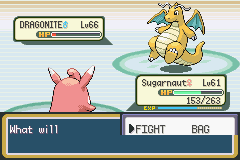 ...wait shit, you weren't supp-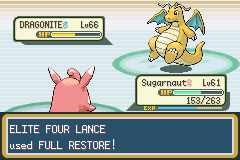 Eh. Better you use it now I guess.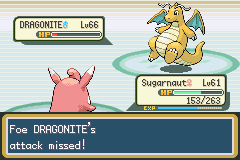 Ahahahahaha, this was another Hyper Beam.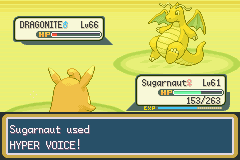 Sugarnaut, the DragonSlayer.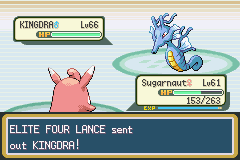 ...oh god that poor Horsea.

Kingdra
Kingdra was unique (Until Gen4 and Palkia came around.) It's Water/Dragon-type. What's this mean? It has one weakness (Dragon-type attacks) and a shitton of resistances.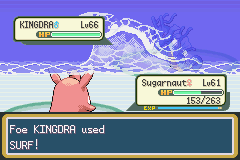 Ow.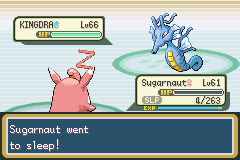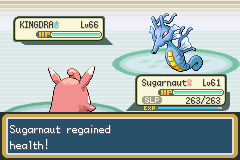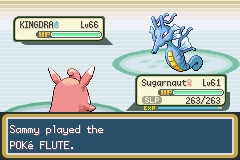 Yea, that'n was the Item fanfare from Metroid.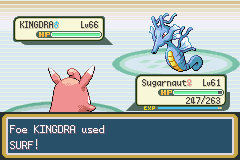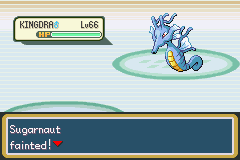 Wow.. that.. that just completely blew up in my face like a cheap pooltoy.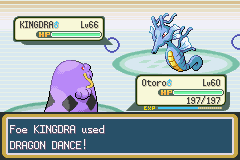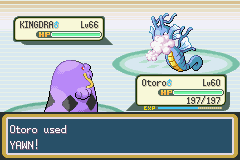 ...You fucker.

Dragon Dance
Dragon Dance boosts the users Attack AND Speed stats by one level. So two of those means it's moving at double speed and hitting twice as hard. Yes.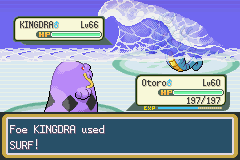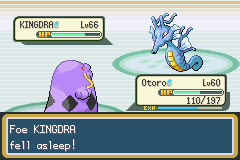 Gotcha, fucker.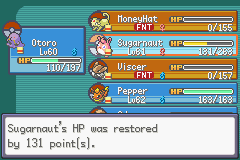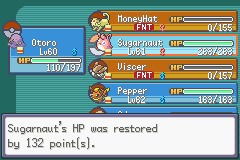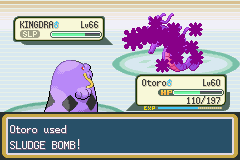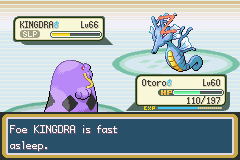 Yeah. You stay asleep you fucker.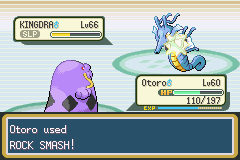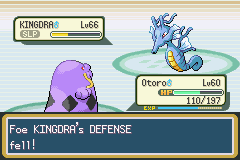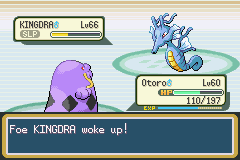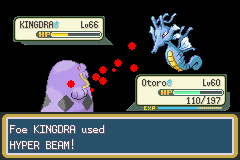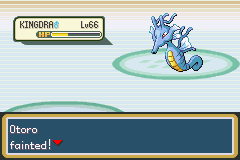 OH SURE. SLUDGE DOESN'T WAKE YOU UP BUT LIGHTLY SMACKING YOU DOES.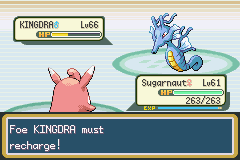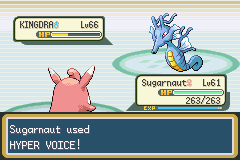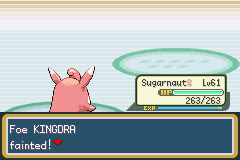 Slay the fuck out of it, Sugarnaut.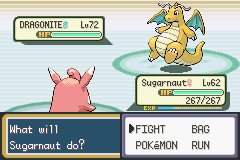 This Dragonite? It's a higher level than Mewtwo. :T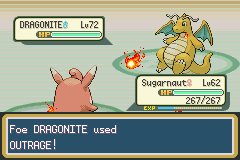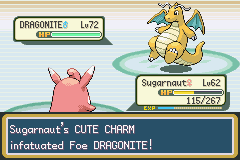 ....Sugarnaut what the hell is it that makes you both so attractive to dragons yet so effective at KOing them?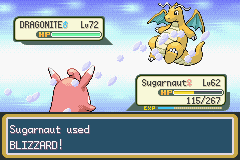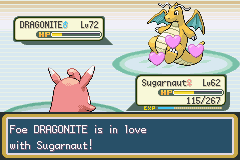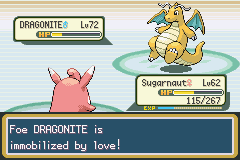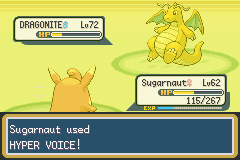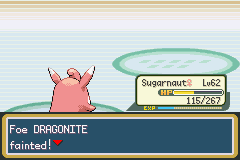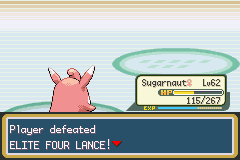 Say goodbye to your kidneys.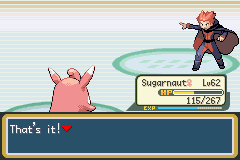 Eh.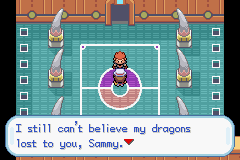 Can I go home now? I'm already champ.
Seeya Lance. Stay away from Five Island.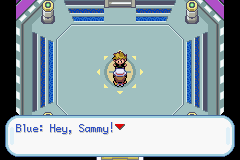 ...


BLUE YOU PRICK. I'M GONE FOR THREE DAYS AND YOU MOVE IN ON MY- nah I don't care.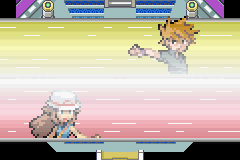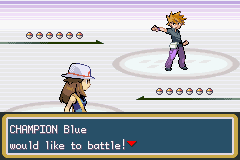 Still gonna kick your ass for the prize money, though.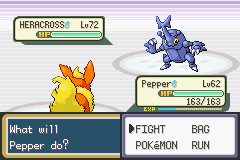 The hell?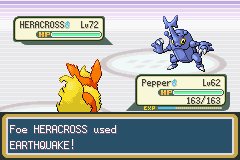 WHAT THE FUCKING SHIT WAS THAT?!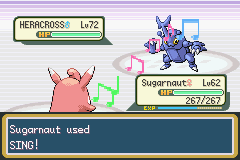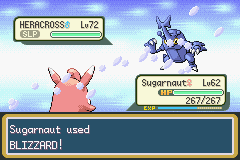 And of course it wakes up after this...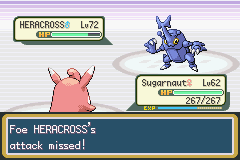 . . . and promptly misses with Megahorn.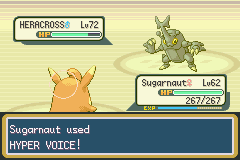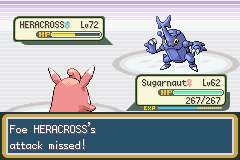 . . . and again.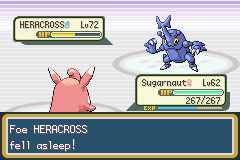 :T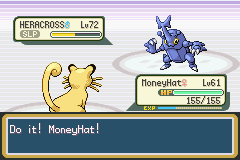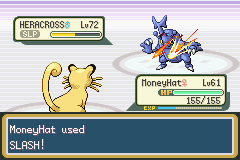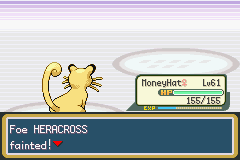 Shit. What the hell were you trying to do there?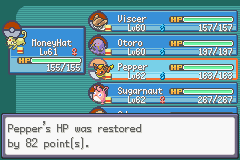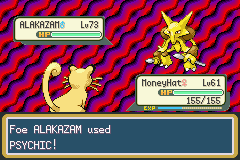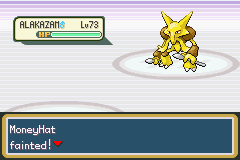 -THE HELL DID THAT COME FROM?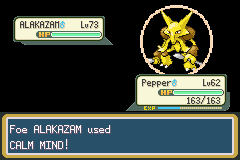 Wrong move, Skippy.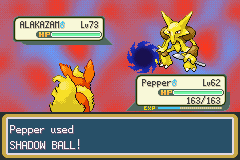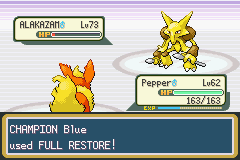 . . .

In retrospect, I should have used this second.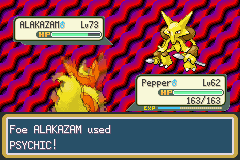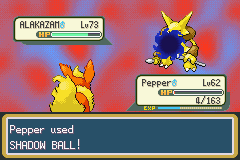 Kadabra's cooler looking anyway.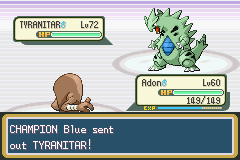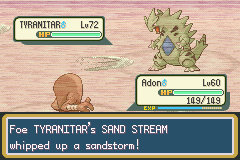 SOMEONE'S BEEN USING THE INTERNET I SEE.

Tyranitar
Tyranitar is arguably the most powerful nonlegendary monster in the game. It's better than a lot of legendaries, even. Entei, Moltres, Registeel, I'm looking at you guys. (And they made it better in Gen4). That Sandstream ability? The only comparable ability to it are Abomasnow's Snow Warning, Groudon's Drought and Kyogre's Drizzle. It forces a Sandstorm weather condition once it enters play, but here's the thing. It doesn't go away. Not until a new condition replaces it.
A NOTE FROM THE FUTURE. THIS WAS WRITTEN PRE-GEN3 oooOOOOOOoooooo!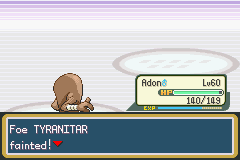 A good strong Fighting move usually KOs em though.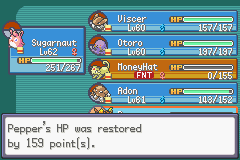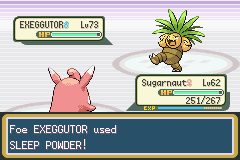 LAX INCENSE I LOVE YOU.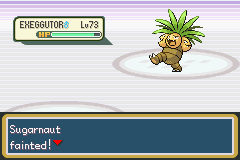 ...fuck.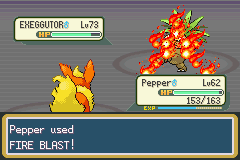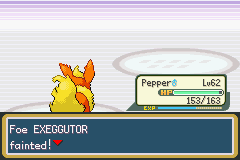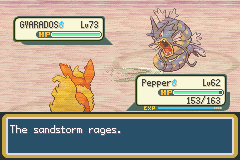 BLUE YOU ARE MORE OF AN ASS NOW THAN YOU EVER HAVE BEEN IN THE PAST.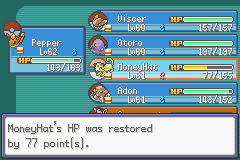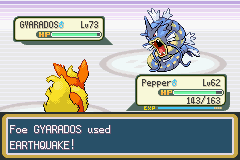 HAAAAAAAAAAATE.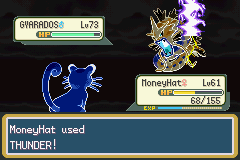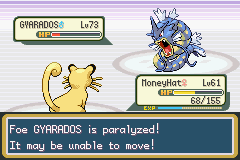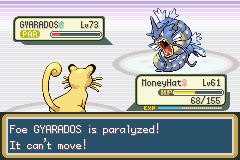 asGASGASDSJADJADJAJAJA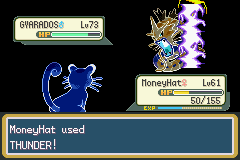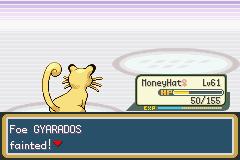 WE END THIS.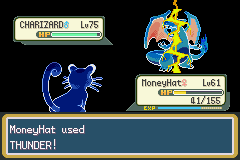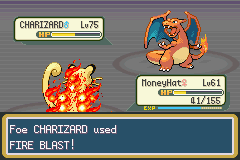 ...well shit.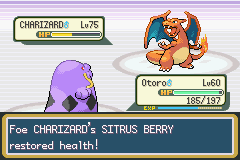 ...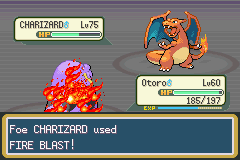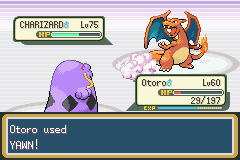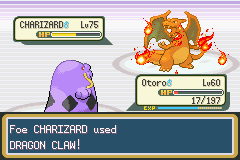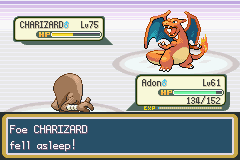 Checkmate, motherfucker.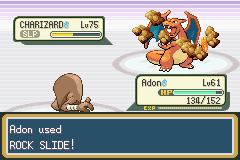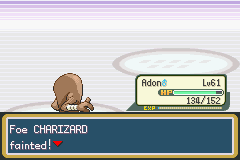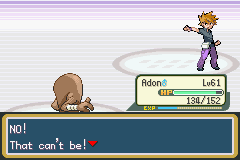 Yeah, blah blah blah. You can stay champion. Fork over the cash and stay the hell away from my island.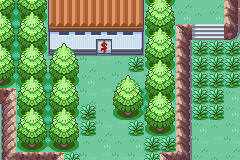 Hmm, this is the part where the evil killer toto-

...

Hmm... Ok, reality falls ap-

...

Uhhh, Sammy leaves on a grand jo-

...

Well huh... I guess we don't really have a good ending for Sammy's story..


Actually, I know a couple good ones...

Here, it can even have some nice music.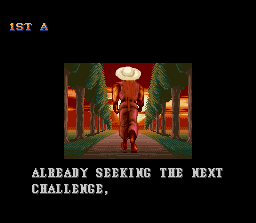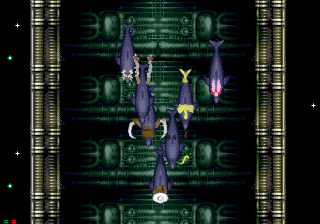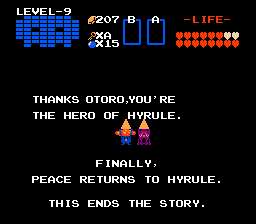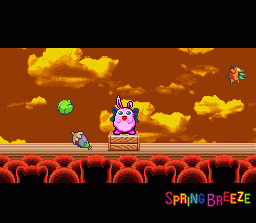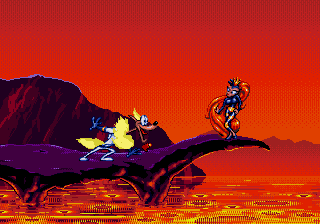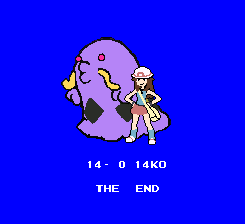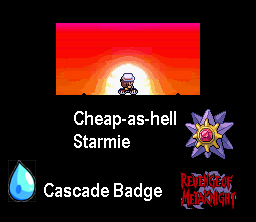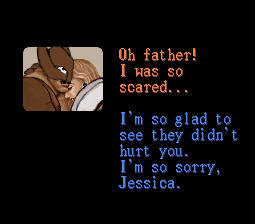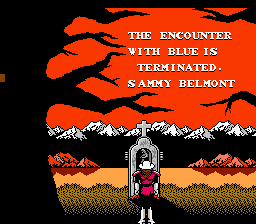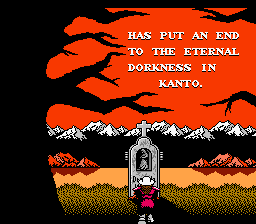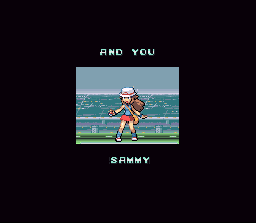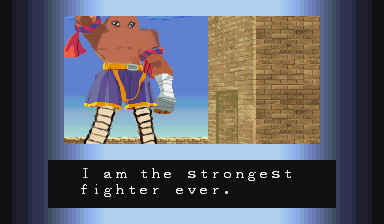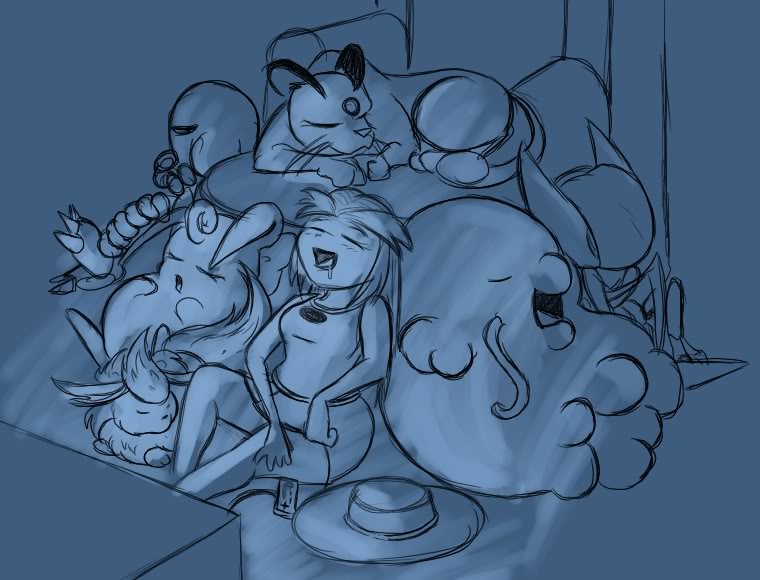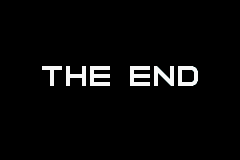 << Previous Chapter
^^ Index