<< Previous Chapter
>> Next Chapter
^^ Index
Chapter 20: Naruto is Dumb and You Should Feel Bad For Liking It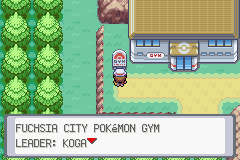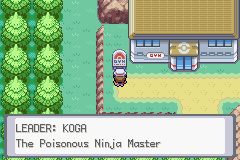 Oh man, I gotta fight Shinobi? D: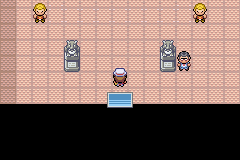 Well this is pret—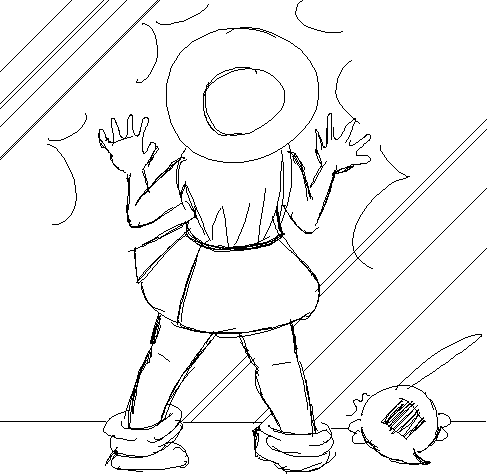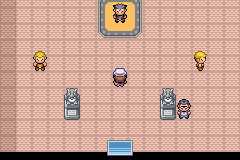 MOTHER FUCKER.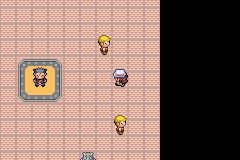 DAMMIT WHO BUILDS INVISIBLE WALLS.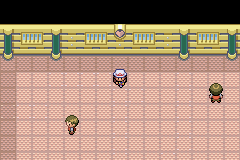 These are worse than the ones in early PS1 games.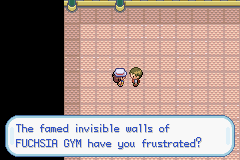 t('.'t)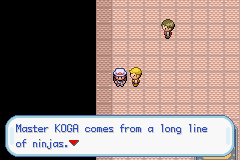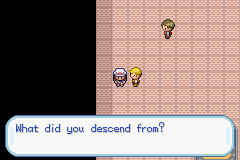 I. . . well. . .
Choro Note: Now since I was getting my ass beat by Drowzee and Hypno (for some reason) in this gym, I had to gain a few levels outside fuschia.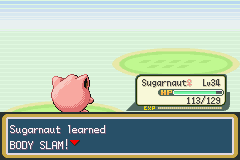 This happened.
Also MoneyHat learned Screech but I didn't cap that for some reason.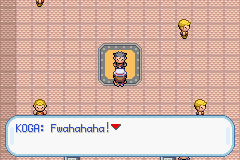 mwahahaha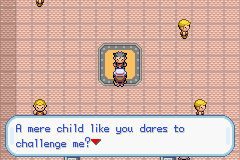 My giant kangaroo apparently can't swim without a badge.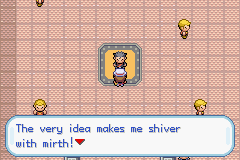 Yea, it is pretty absurd.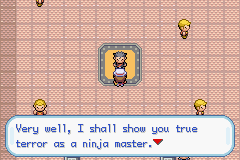 Awesome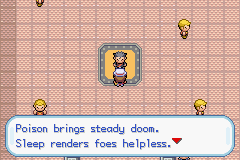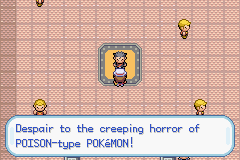 Music:
Kanto Gym Leader Battle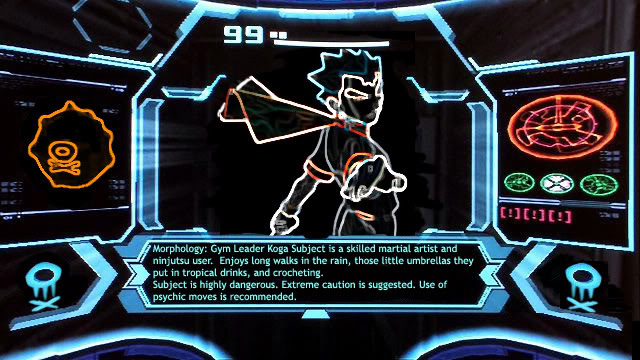 Scan Complete. Addin' this to the PokéLogbook.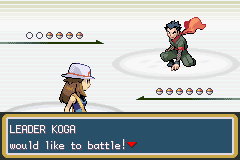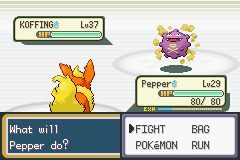 A high level koffing. Clearly there is only one option.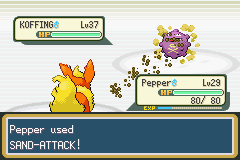 BLIND IT. GO FOR THE EYES.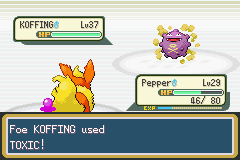 Choro Notes: Toxic
Toxic is THE poison inducing attack to use. It has another feature that Poison Gas and co. don't. Instead of inflicting 1/16th total hp damage each turn. The amount of damage it deals intensifies, inflicting more each turn.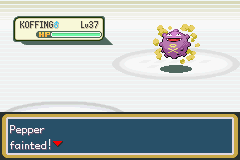 Pepper you worked your ass off to blind that Koffing.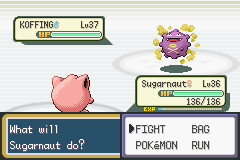 Sugarnaut's time to shine.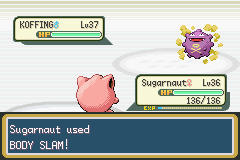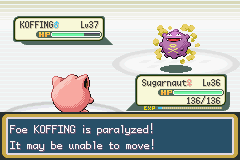 Heh, crippling spinal damage. Alright.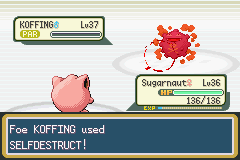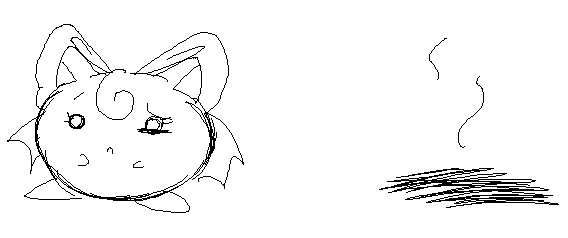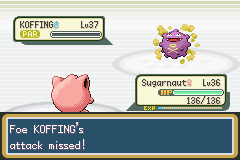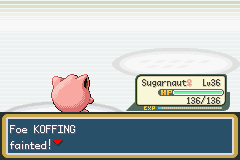 I. . . what?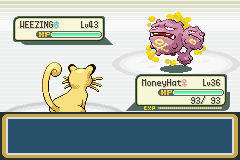 That is a high-fucking-level bag of gas.

Choro Notes: Those of you with cats, you know that noise your cat makes in the middle of the night? That wretching noise? Ok, now you know that noise they make when someone steps on their tails? Combine the two.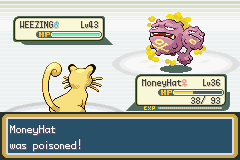 Now imagine it doing it all night after you've worked a 14 hour day and have to be up in the morning.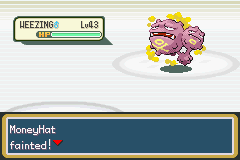 Yeah, that Weezing had every right to do that.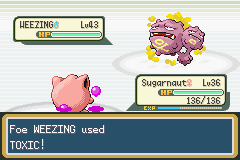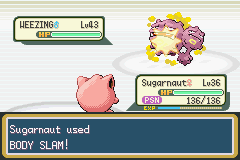 GO FOR ONE OF IT'S SPINAL CORDS.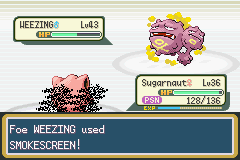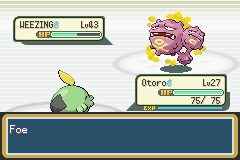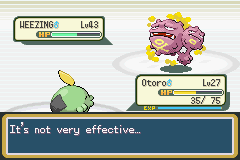 Bah, bag of gas. Meet my bag of stomach acid.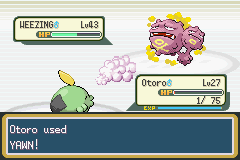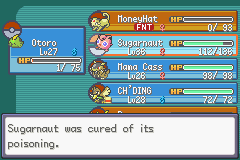 The set up aaand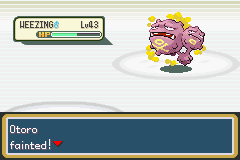 Extraction failed!

Stomach down! STOMACH DOWN!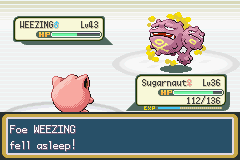 Cocky sumnabitch.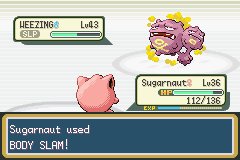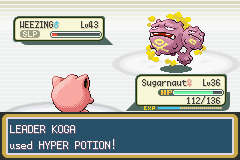 Ok, you wanna spam items? Ok we can go this route, Mr. ninja man.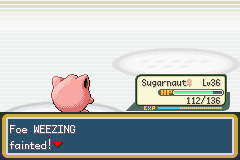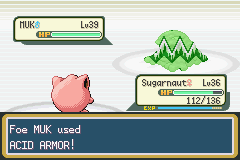 Geh.
Choro Notes: Acid Armor is Muk becoming more liquid-y. It sharply raises its defense.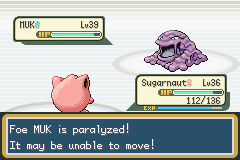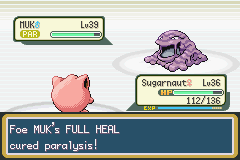 OH FUCK YOU KOGA.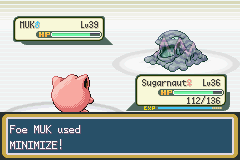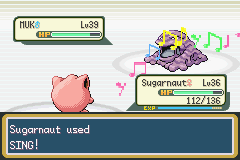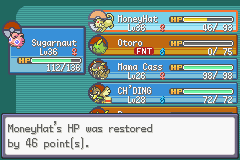 Think of a plan, think of a plan. Uhhhh.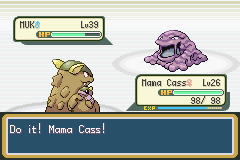 MAMA CASS.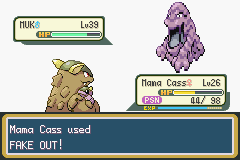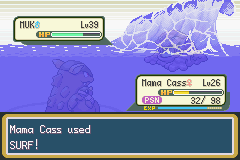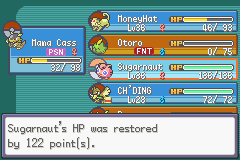 Gain some HP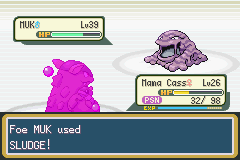 Lose some HP


It's that damned Acid Armor.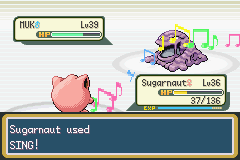 Step1: Disable target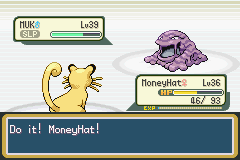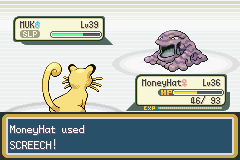 Step2: Destroy target's armor.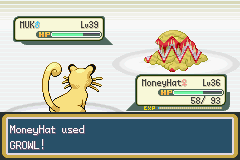 Step3: Destroy target's weapons.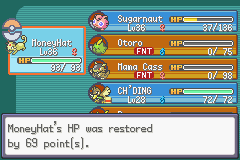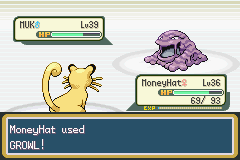 Healin' and Growlin'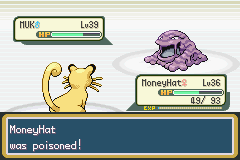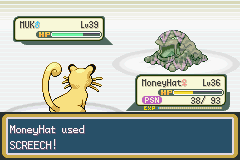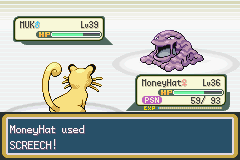 Welp, damage was inflicted.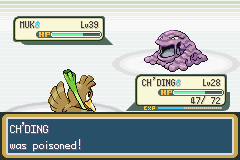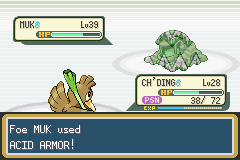 That duck is amazing.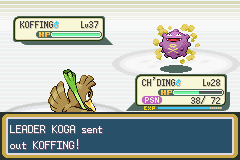 The previous koffing's elder brother, clearly.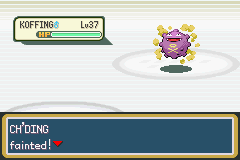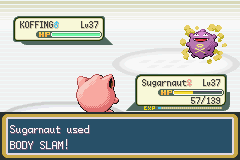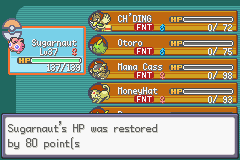 This all comes down to Sugarnaut.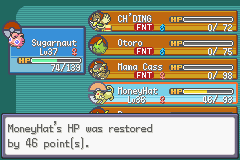 Pff, the hell it does.

MoneyHat's gonna be there to finish it off.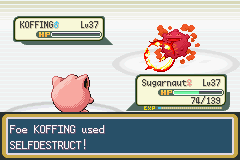 OH GOD NOT AGAIN.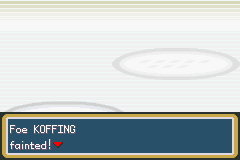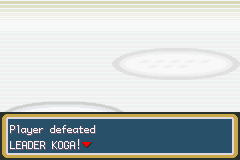 Hahahahaha, if I hadn't healed MoneyHat that turn. . . !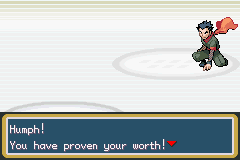 Luck=Worth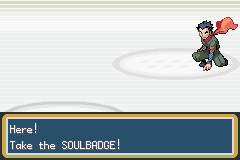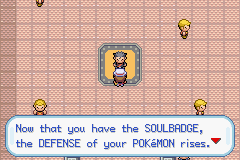 That's kinda cool.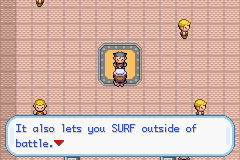 AWESOME.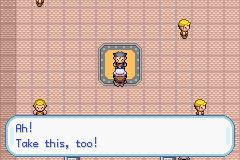 c'mon Grapple Beeeeeam.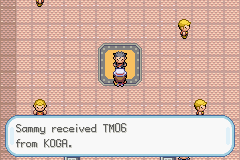 :/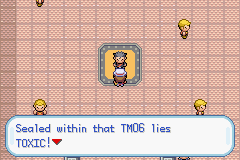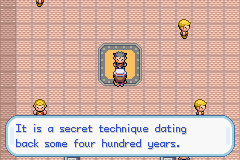 Well that's kinda cool I guess. Ancient Ninja Secret = TM that tells my stuff how to vomit up highly toxic chemicals.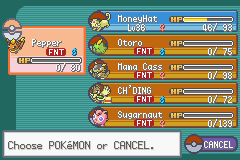 << Previous Chapter
>> Next Chapter
^^ Index