<< Previous Chapter
>> Next Chapter
^^ Index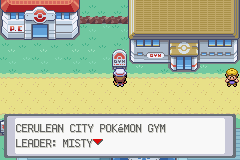 Misty?
Chapter 10: Fuck You, Starmie. I Hope You Die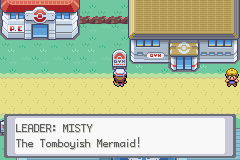 Man, that's a sissy name.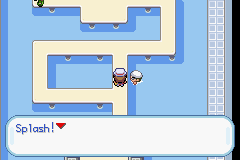 DODGE IT! NOW COUNTER WITH YOUR OWN SPLASH!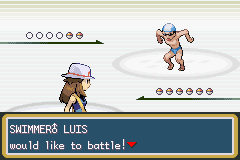 Gee, I wonder what type of gym this is!!!!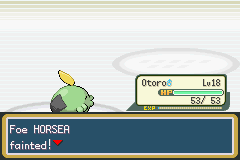 Easy-Peasy.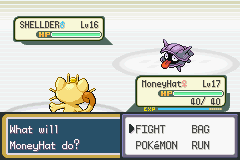 Choro Notes: Shellders have been a slight problem. They've got defense out the ass, but shitty sp.def. Unfortunately for me, I've only got one special attack.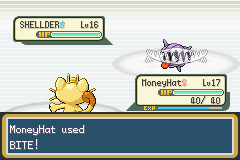 I am so fucking glad they did that physical/special split in Gen4 because I'm not sure how much sense this makes.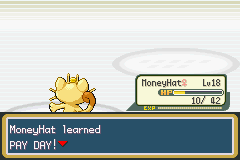 Choro Notes: Pay Day is Meowth's signature attack, it flings coins at its foes, allowing you to pick them up as money after the battle.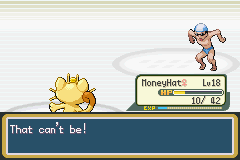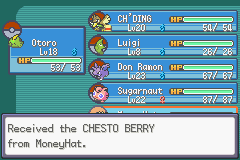 MoneyHat's PickUp ability. She's the cat that keeps on givin' :D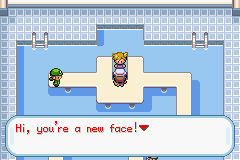 I'm only here so my Duck-like Samurai will listen to me. :T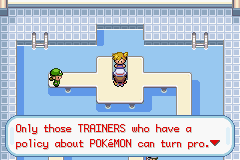 I'm just trying to sell some games. :I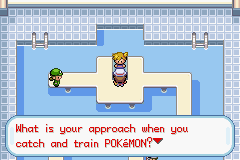 The ones that are pretty chill? Yea, I use those.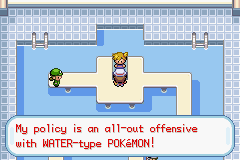 Gee I hadn't noticed.

Music: Battle! Gym Leader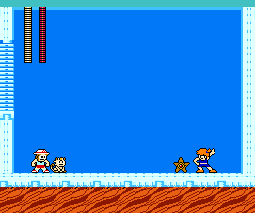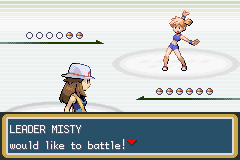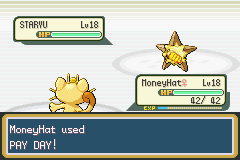 SUCK FOREHEAD CHARM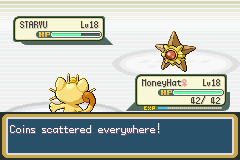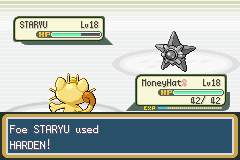 Buff your defense, huh? Little do you know I have a special attack!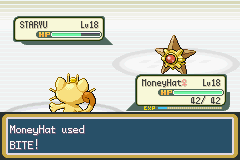 GO ON MONEYHAT, USE THAT BRAIN. . . TO BITE IT. . . HARDER?.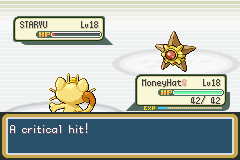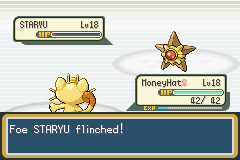 Alright, we found the weapon strong against it.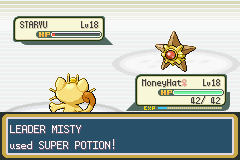 Energy Tank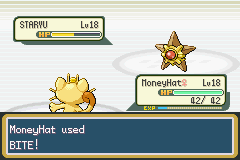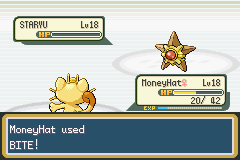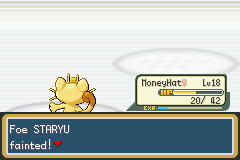 Dodo dodo dodo dododedooooooo


Oh come on, that's just two Staryu duct taped together. <

>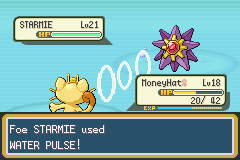 Choro Notes: Hey here's some stuff to know about Starmie:

Starmie are brutally good; easily one of the best monsters ever. I've seen entire teams swept by one Starmie. They're shockingly fast, with a very nice Sp.Atk stat. To top it off, their movepool is insane.
Use a Grass-type against it? It learns Ice Beam.
Use another Water-type to sponge some water damage/Ice Beams? It learns Thunderbolt.
Oh what's that? You think you got a nice hit on it? It recovers 50% of its max HP back.
Gonna Leech Seed it to slowly drain it or force a switch? Yea, no, it can Rapid Spin.
I'll just Paralyze it or Toxic it to cripple it! Starmie's Natural Cure ability heals its status if it switches out.
God, fuck you Starmie.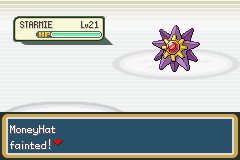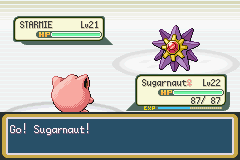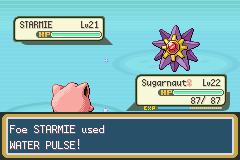 Weeeeeeeeelp.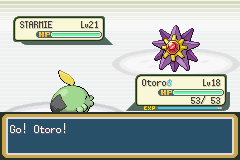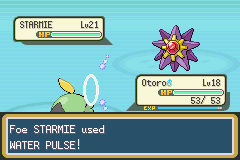 Shruuuug it off Otoro.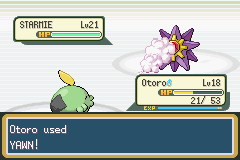 Potion break!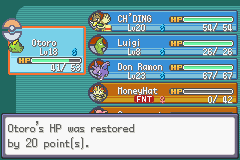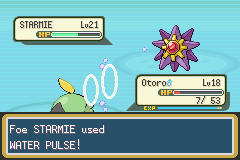 Alright, Otoro. You got a few Sludges in, before Starmie woke up covered in bile. Good work.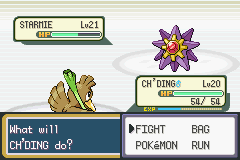 Ok, Ch'Ding. Let's not fuck around this time. Give it a Fury Attack.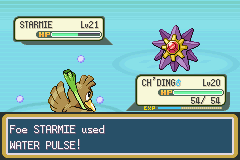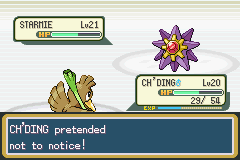 YOU DIRTY MOTHERFUCKER.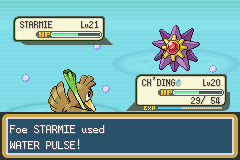 Hmmm. . . Hey Ch'Ding, give it your Peck attack. D:/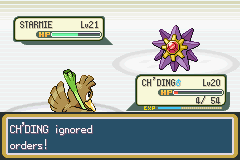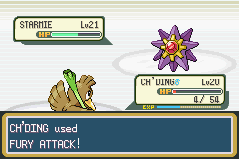 HA. I OUTSMARTED THE DUCK, I OUTSMA— Fuck I am WAY to happy about this. ]:(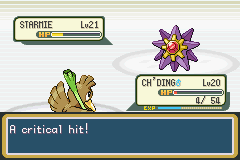 STRIKE 2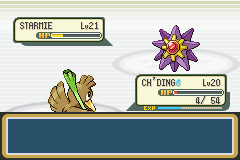 STRIKE 3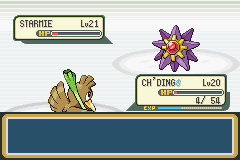 STRIKE 4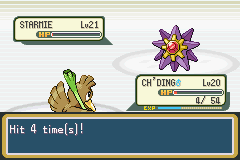 Heh, yeah I'm kind of a big—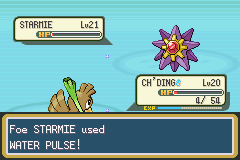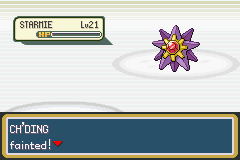 FUCK.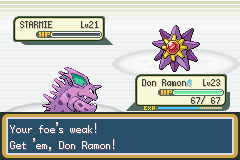 Alright, it's down to you and Luigi. And as you know, Don Ramon, Luigi is next to useless.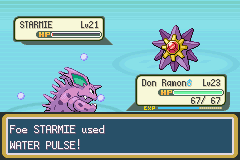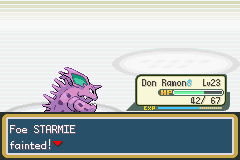 Starmie piss me off.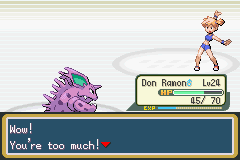 Reward please.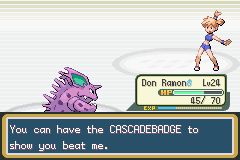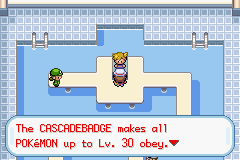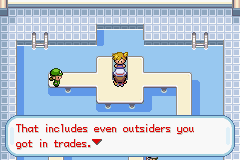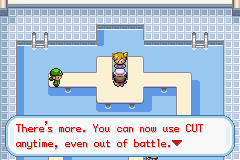 FINALLY. SEE THAT YOU STUPID DUCK? SEE THAT? YEA I— Oh right, you're unconscious.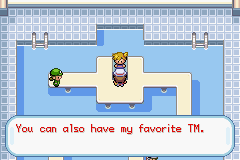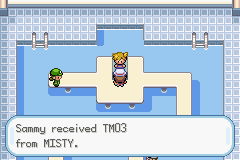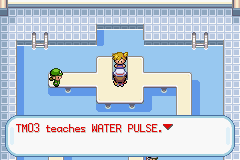 -GET EQUIPPED
with
WATER PULSE-


Pff, ok. sure.


<< Previous Chapter
>> Next Chapter
^^ Index